The Washington Department of Fish and Wildlife is currently developing a commercial whale-watching licensing program. To  learn more, visit the commercial whale-watching licensing program webpage, and sign up to receive updates.
WDFW is committed to conserving and protecting Southern Resident killer whales and is working tirelessly to support their recovery. In addition to serving on Governor Inslee's Southern Resident Orca Task Force, some of our recent efforts to support southern resident killer whale recovery include: 
Overview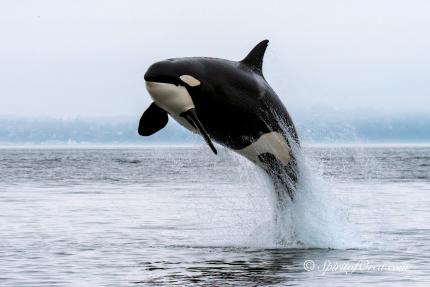 Southern resident killer whales, also known as orcas, reside in Puget Sound and the Salish Sea of British Columbia regularly from late spring through the fall. During the rest of the year, they range along the Pacific Ocean coastline from northern California to southeast Alaska, spending much of their time off of Washington's coast.
Southern resident killer whales are classified as an endangered species by the U.S. and Canadian federal governments and by Washington state. However, despite these protections, the population has fallen from 98 whales in 1995 to just 74 in 2018. Recent research indicates many killer whales are in poor physical condition and struggling to successfully raise calves.
Southern resident killer whales are a beloved icon of the Pacific Northwest, holding significant cultural value to native tribes. In addition, the whale-watching industry contributes up to $60 million per year to Washington's economy and supports hundreds of jobs in the Puget Sound region.
Three primary threats to the whales are: (1) a lack of prey; (2) toxic contaminants; and (3) disturbance from noise and vessel traffic.
2019 legislative direction
To help address the threats to orcas, the 2019 state Legislature took substantial action to support WDFW's efforts to recover the species.
Inslee signs bill package to protect, aid, grow orca and salmon population in Salish Sea
Vessel disturbance: On May 8, 2019, Gov. Jay Inslee signed legislation to better protect Southern Resident Killer Whales from vessel disturbances and underwater noise. Enhanced legal protections will include increases to the distance that boaters need to keep between themselves and the whales -- 400 yards in front and behind, and never less than 300 yards. In addition, any boat within a half-mile of the whales will be required to slow engine speeds to 7 knots, or less. To reduce daily and cumulative vessel impacts, WDFW's authority was also expanded to regulate and license commercial whale watching vessels. Visit the Be Whale Wise page for more information.
Additional protection for habitat, forage fish, and salmon: The governor also signed legislation that gives the department more tools and authority regarding construction projects (via Hydraulic Project Approvals) built in aquatic environments that can affect forage fish and salmon. Additionally, the legislation requires anyone fishing for smelt in marine waters to obtain a license to provide for better management of this important forage fish species. It also directed the state's Fish and Wildlife Commission to adopt rules to loosen bag limits for bass, walleye, and channel catfish in waters with salmon, to reduce the number of smolts eaten by predators. 
Increased hatchery fish: The department has been working to increase the number of salmon produced at hatcheries. Using funding provided in a 2018 budget proviso, WDFW increased production by 7 million fish that year and will be increasing production in 2019 by at least 5.5 million fish.
Vessel regulations and voluntary 'no-go' zone
Regulations requiring boaters to steer clear of killer whales were established in 2008.
State and wildlife managers are asking anglers and boaters to avoid an area along the west side of San Juan Island, where killer whales frequently forage and socialize. This action is needed to provide the whales with a quiet area to feed.
Additional resources
Killer whales and boats: Information and guidelines
Killer whale information and fact sheets
State and federal policies and management
Orca coverage