The Pacific razor clam is one of the most sought after shellfish in the state of Washington. Better roads and more leisure time have brought increasing numbers of diggers to the ocean beaches. It is not unusual to have as many as a thousand people per mile during a nice spring weekend day.
Recreational digging for razor clams can be enjoyed by children and senior citizens alike. All you need is a clam shovel or specialized tube, a container to put your clams in and, most importantly, your clam license. Be sure to check the regulations and current razor clam season information for the latest clam-digging requirements and other sport fishing regulation updates. During the fall and winter when low tides occur at night, thousands of clam diggers brave the elements to dig by lantern or flash light. Because there is a great deal of interest in digging at all times of the year, seasons are set to allow digging during daylight spring tides when there is better weather and during the fall/winter when diggers have to deal with the elements, but not as many clam diggers.
During certain times of the year, marine toxins, produced by some species of diatoms (algae) are taken in by razor clams and concentrated. When ingested, these toxins can cause illness and in very high concentrations can be fatal to humans. WDFW, in cooperation with the Washington Department of Health (DOH), samples clams on a routine basis to determine up-to-date toxin levels. If high toxin levels are detected, clam seasons are delayed or closed. WDFW and DOH work very hard to provide a safe and fun resource to enjoy.
Current razor clam season information
WDFW approves Saturday, May 15, and Monday, May 17, razor clam digging at Mocrocks Beach only
Contacts: Dan Ayres, 360-470-3557; Jason Wettstein (360) 704-0258
OLYMPIA – For the first time in 2021, shellfish managers have approved two days of razor clam digging on Saturday and Monday, after marine toxin tests showed the clams are safe to eat.
The approved morning razor clam digs on Mocrocks beach only, along with low tides, are listed below:
Saturday, May 15; 9:37 am; -0.5 feet; Mocrocks
Monday, May 17; 11:03 am; -0.1 feet; Mocrocks
No digging is allowed after noon during digs when low tide occurs in the morning.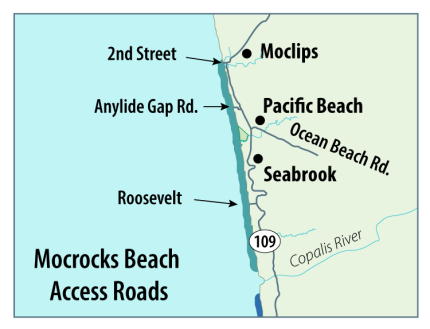 "After this long closure due to high levels of marine toxins, we are happy to open a dig this weekend, said Dan Ayres, WDFW coastal shellfish manager. "And, even though it is just one beach, we hope people will enjoy the opportunity responsibly."
No other beaches are scheduled to open at this time, and WDFW will continue testing marine toxins in razor clams in conjunction with the Washington Department of Health, in order to determine whether additional digs can be scheduled before the end of May, the normal season end point.
Many ocean beaches are open to motor vehicles, but drivers are required to follow the "rules of the road," said Ayres. "Mocrocks beach only has three points of road access, so we are asking beachgoers to arrive early and exercise good judgment when accessing the beach," he added.
"Under state law, all vehicles - and horses - are required to travel along the extreme upper limit of the hard sand," he said. "When in doubt, follow the path marked by multiple tire tracks." Drivers who veer from that path pose a direct threat to fish and wildlife, Ayres said. Motorists who violate Washington state laws on beach driving can face a fine of $150, or much more for killing endangered seabirds, like snowy plovers.

The agency continues to emphasize 'digging while distancing' and masking up when near others to support efforts by community health experts to ensure a fun and safe razor clam season.
All diggers age 15 or older must have an applicable fishing license to harvest razor clams on any beach.
Licenses, ranging from a three-day razor clam license (starting at $9.70) to an annual combination fishing license, are available on WDFW's website and from some 600 license vendors around the state.
Under state law, diggers at open beaches can take 15 razor clams per day and are required to keep the first 15 they dig. Each digger's clams must be kept in a separate container.

The Washington Department of Fish and Wildlife works to preserve, protect and perpetuate fish, wildlife and ecosystems while providing sustainable fish, wildlife recreational and commercial opportunities.
Razor clam beaches
Digging on closed beaches could result in a fine. Please check map and current razor clam schedule, and observe signs -- particularly while digging on Copalis and Mocrocks beaches -- in order to determine that you are on the right beach digging legally.
Razor clams are found primarily on the intertidal coastal beaches (those that are exposed at low tide) from a +3 foot level to a -2 foot tide level. The Washington Department of Fish and Wildlife (WDFW) divides the harvest areas into five major management zones (see map):
Other areas where razor clams exist are: a series of sand spits in the mouth of Willapa Bay, the Quinault Indian Reservation and numerous small beaches north of Olympic National Park (ONP) Trail 3 at Kalaloch. The sand spits in Willapa Bay are referred to as the Willapa Spits and are used for commercial harvest.
Be sure to check the latest domoic acid levels at these beaches before heading out. 
Razor Clam Season Setting and Management
Razor Clam Management
See the 2020-21 Razor Clam Management Plan for details on the proposed 2020-21 seasons.  Comments on the plan may be sent to: razorclams@dfw.wa.gov
How Razor Clam Seasons are Set
Washington State has actively managed the coastal recreational razor clam fishery since 1929. Over the decades there have been many changes as more and more people continue to move to the state and discover how enjoyable participation in the fishery is. The flow chart below details the many changes fishery managers have made to address increased digging pressure.
Today, the season setting process starts with a very detailed summer population assessment of each beach. A good description of how WDFW conducts this work can be found in the WDFW video, "Razor Clams in Washington Stock Assessment." After this population assessment is completed, the data collected is used to make estimates of total number of clams under 3 inches (pre-recruits) and total number of  clams over 3 inches (recruits). These estimates are made for each of five management beaches. 
For each management beach, a Total Allowable Catch (TAC) is then calculated using a harvest rate that is applied to the estimate of recruit sized clams. The harvest rate used ranges between 30% and 40% depending on the overall strength of the population. The stronger the population, the higher the variable harvest rate and the weaker the population the lower the variable harvest rate. (The only exception is on the Kalaloch management beach where the TAC is fixed at 25.4%.)
On the three management beaches north of the mouth of Grays Harbor (Copalis, Mocrocks and Kalaloch) WDFW co-manages the razor clam resource with coastal tribes that have fishing rights in their usual and accustomed area (U&A). These include the Quinault Indian Nation which has fishing rights in the area that includes Copalis, Mocrocks and Kalaloch management beaches and the Hoh Tribe and the Quileute Tribe with fishing rights in the area that includes Kalaloch.
After the population assessment on these co-managed beaches is completed (by biologists and technicians from the state and the tribes working together), the TAC is calculated (in the same manner as we described above) with 50% then provided for the state fishery and 50% provided for tribal fisheries.
After the TAC's have been finalized, WDFW begins to set state recreational razor clam openers in such a way to avoid exceeding the TAC or the state's share of the TAC. In general, WDFW tries to provide openers each month (between October and May), while reserving clams for the months ahead. Obviously weather and surf conditions can cause great variations in the number of clams harvested on any specific day. However, should bad weather result in fewer clams being harvested, those clams remain a part of the TAC that will be used to set future openers.
When selecting days for harvest, WDFW always first considers the best low tides that fall around weekends. This is the time when the majority of harvesters can participate. When possible, week days with good low tides are also scheduled.  Along the Washington coast, the best low tides (when digging success is optimized) always occurs during afternoon/evening (PM) hours in the fall and winter (between October and mid-March) and during morning (AM) tides in the spring (after mid-March.)
Only after the WDFW Director has approved the harvest dates and the Washington Department of Health Department analysis for marine toxins (from recent razor clam samples provided by WDFW) show clams are safe to each, then does WDFW announce that the upcoming harvest dates can proceed. That's why it is important for harvesters to check this website before heading out to harvest razor clams.
In the end, the evidence is clear - a conservative management strategy allows razor clam populations to remain strong, allowing WDFW the flexibility to provide more harvest opportunities and more economic benefit to coastal economies.