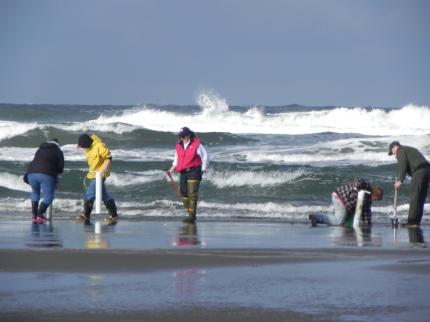 The Pacific razor clam is one of the most sought after shellfish in the state of Washington. Better roads and more leisure time have brought increasing numbers of diggers to the ocean beaches. It is not unusual to have as many as a thousand people per mile during a nice spring weekend day.
Recreational digging for razor clams can be enjoyed by children and senior citizens alike. All you need is a clam shovel or specialized tube, a container to put your clams in and, most importantly, your clam license. Be sure to check the regulations for the latest clam-digging requirements and other sport fishing regulation updates. During the fall and winter when low tides occur at night, thousands of clam diggers brave the elements to dig by lantern or flash light. Because there is a great deal of interest in digging at all times of the year, seasons are set to allow digging during daylight spring tides when there is better weather and during the fall/winter when diggers have to deal with the elements, but not as many clam diggers.
During certain times of the year, marine toxins, produced by some species of diatoms (algae) are taken in by razor clams and concentrated. When ingested, these toxins can cause illness and in very high concentrations can be fatal to humans. WDFW, in cooperation with the Washington Department of Health (DOH), samples clams on a routine basis to determine up-to-date toxin levels. If high toxin levels are detected, clam seasons are delayed or closed. WDFW and DOH work very hard to provide a safe and fun resource to enjoy.
Current razor clam season information
May 10, 2019
Contact: Dan Ayres, 360-249-4628;
Jason Wettstein (360) 902-2254
WDFW approves "bonus" razor clam dig starting May 18 at Mocrocks
OLYMPIA – State shellfish managers have approved a "bonus" razor clam dig on ocean beaches for three days, May 18-20.
State shellfish managers with the Washington Department of Fish and Wildlife (WDFW) approved the dig on morning low tides after marine toxin tests showed the clams are safe to eat. No digging will be allowed on any beach after noon.
The upcoming dig is approved on the following beaches, dates, and morning low tides:
May 18, Saturday, 6:58 a.m.; -1.4 feet; Mocrocks
May 19, Sunday, 7:41 a.m.; -1.6 feet; Mocrocks
May 20, Monday, 8:23 a.m.; -1.6 feet; Mocrocks
"We are happy to announce that healthy clam populations on Mocrocks beach support another dig," said Ayres.
The southern border of Mocrocks Beach is the Copalis River and the northern border of Mocrocks is the southern end of Quinault Indian Reservation, just south of the Moclips River. Mocrocks includes the following popular areas: Iron Springs, Roosevelt Beach, Seabrook, Pacific Beach and Moclips Beach.
Copalis Beach, just south of Mocrocks, will not be open.
All diggers age 15 or older must have an applicable 2019-20 fishing license to harvest razor clams on any beach; 2018-19 licenses are no longer valid for this dig. Licenses, ranging from a three-day razor clam license (starting at $9.70) to an annual combination fishing license, are available on WDFW's website at https://fishhunt.dfw.wa.gov and from license vendors around the state.
Under state law, diggers at open beaches can take 15 razor clams per day and are required to keep the first 15 they dig. Each digger's clams must be kept in a separate container.
WDFW is the state agency tasked with preserving, protecting and perpetuating fish, wildlife and ecosystems, while providing sustainable fishing, hunting and other outdoor recreation opportunities. WDFW razor clam digs support outdoor lifestyles and coastal economies.
---
The Washington Department of Health (DOH) monitors shellfish for a variety of contaminants, including biotoxins, pollution, and radiation. For more information on shellfish safety, visit DOH's recreational shellfish webpage.
Razor clam beaches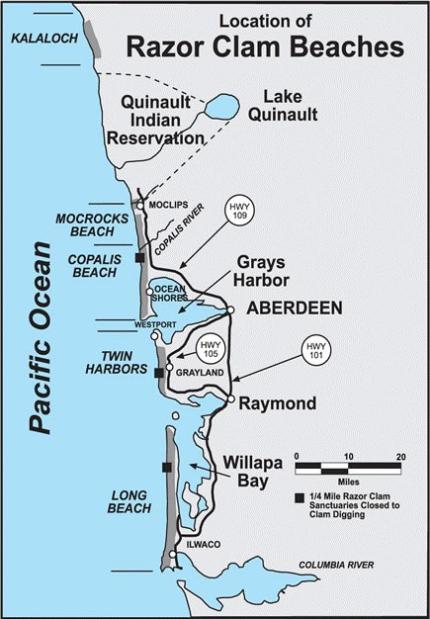 Razor clams are found primarily on the intertidal coastal beaches (those that are exposed at low tide) from a +3 foot level to a -2 foot tide level. The Washington Department of Fish and Wildlife (WDFW) divides the harvest areas into five major management zones (see map):
Other areas where razor clams exist are: a series of sand spits in the mouth of Willapa Bay, the Quinault Indian Reservation and numerous small beaches north of Olympic National Park (ONP) Trail 3 at Kalaloch. The sand spits in Willapa Bay are referred to as the Willapa Spits and are used for commercial harvest.
Be sure to check the latest domoic acid levels at these beaches before heading out.