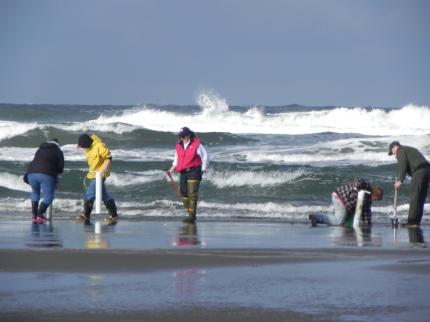 The Pacific razor clam is one of the most sought after shellfish in the state of Washington. Better roads and more leisure time have brought increasing numbers of diggers to the ocean beaches. It is not unusual to have as many as a thousand people per mile during a nice spring weekend day.
Recreational digging for razor clams can be enjoyed by children and senior citizens alike. All you need is a clam shovel or specialized tube, a container to put your clams in and, most importantly, your clam license. Be sure to check the regulations for the latest clam-digging requirements and other sport fishing regulation updates. During the fall and winter when low tides occur at night, thousands of clam diggers brave the elements to dig by lantern or flash light. Because there is a great deal of interest in digging at all times of the year, seasons are set to allow digging during daylight spring tides when there is better weather and during the fall/winter when diggers have to deal with the elements, but not as many clam diggers.
During certain times of the year, marine toxins, produced by some species of diatoms (algae) are taken in by razor clams and concentrated. When ingested, these toxins can cause illness and in very high concentrations can be fatal to humans. WDFW, in cooperation with the Washington Department of Health (DOH), samples clams on a routine basis to determine up-to-date toxin levels. If high toxin levels are detected, clam seasons are delayed or closed. WDFW and DOH work very hard to provide a safe and fun resource to enjoy.
Current razor clam season information
May 23, 2019
Contact: Dan Ayres, 360-249-4628;
Jason Wettstein (360) 902-2254
The 2018-19 razor clam season has ended
Now, the work for agency biologists and technicians is to begin assessing populations again for the 2019-20 season, a process that will last through the summer.
More information on the upcoming season is expected in mid to late-September.
A few estimates from the 2018-19 season.
Razor clam diggers made some 273,000 trips in all and harvested some 3.7 million razor clams. They averaged near the razor clam bag limit at 13.6 clams per digger trip.
At least one beach was open on a total of 52 days of digging. Many of those days, multiple beaches were open.
The value of the clam harvest to communities is estimated at around $25 million.
For more on how we evaluate clam populations, please see this YouTube video.
Razor clam beaches
Razor clams are found primarily on the intertidal coastal beaches (those that are exposed at low tide) from a +3 foot level to a -2 foot tide level. The Washington Department of Fish and Wildlife (WDFW) divides the harvest areas into five major management zones (see map):
Other areas where razor clams exist are: a series of sand spits in the mouth of Willapa Bay, the Quinault Indian Reservation and numerous small beaches north of Olympic National Park (ONP) Trail 3 at Kalaloch. The sand spits in Willapa Bay are referred to as the Willapa Spits and are used for commercial harvest.
Be sure to check the latest domoic acid levels at these beaches before heading out.