Project News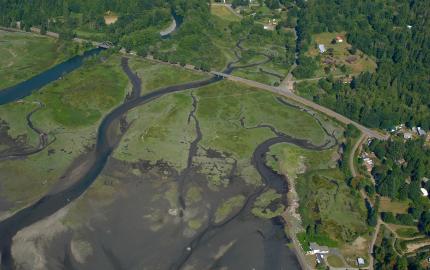 Learn about the project and provide your feedback!
A draft Environmental Impact Statement is expected to be out for public review at the end of October 2019. WDFW will hold a public meeting sometime in November of 2019, and there will be a public comment period in late 2019. Sign up for email newsletter below to stay up to date on news about the project. 
From June 27 to July 26, 2019, WDFW collected public comments as part of a State Environmental Policy Act (SEPA) review process to identify what to evaluate in a Supplemental Environmental Impact Statement (SEIS). A public meeting was held on July 13 at the Brinnon School. Visit the Duckabush SEPA webpage for more information.
In April 2019, a design agreement was signed by WDFW Director Kelly Susewind and U.S. Army Corps of Engineers Colonel Geraldi to begin the design phase of this large restoration project at the mouth of the Duckabush River in Hood Canal. Other project partners include the Washington State Department of Transportation (WSDOT) and the Hood Canal Salmon Enhancement Group (HCSEG).
Project Background
WDFW, in partnership with the U.S. Army Corps of Engineers and the Hood Canal Salmon Enhancement Group (HCSEG), is proposing a restoration project on the Duckabush River estuary in Jefferson County. The project would reconnect the Duckabush River to neighboring floodplains and wetlands by modifying local roads and elevating Highway 101 onto a bridge spanning the area where freshwater from the Duckabush River meets saltwater of Hood Canal.  
The Duckabush River estuary is currently impacted by fill, dikes, and road infrastructure, which blocks water channels and limits critical habitat for fish and wildlife, including endangered salmon species.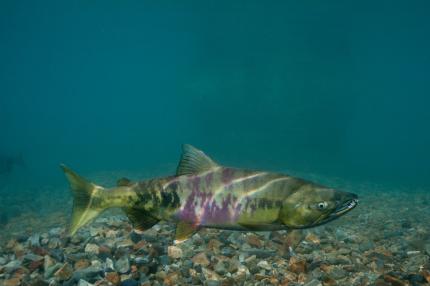 This project would contribute to a Puget Sound-wide objective to restore river deltas and their wetlands. Over 50 percent of historical wetlands (57,823 acres) in Puget Sound's 16 largest river deltas have been eliminated by development, which means there is significantly less natural habitat available for fish and wildlife to survive and thrive. Fortunately, the Duckabush estuary provides a valuable opportunity to restore important habitat that would provide long-lasting benefits to fish, wildlife, and people.  
The Duckabush Unit is part of the North Olympic Wildlife Area managed by WDFW.
Project-specific objectives
Reconnect and restore estuarine and freshwater tidal wetlands.
Re-establish distributary channels to promote greater diversity of delta wetland habitats.
Restore mudflats and salt marsh.
Anticipated project benefits
Improved estuarine habitat for fish, birds, and wildlife, including endangered Hood Canal Summer Chum and Chinook salmon, which is a main food source for endangered Southern Resident Killer Whales (Orcas).
Modernized highway design with updated safety features.
Improved opportunity for natural filtration of water flowing through the estuary.
Reduced seasonal flooding by eliminating existing water bottlenecks and allowing for natural tidal flows.
Community engagement
The Washington Department of Fish and Wildlife is committed to sharing timely project information with the local community, stakeholders, tribes and government agencies, as well as providing opportunities for comment during project planning.
Subscribe to email updates
To receive periodic updates on the Duckabush Restoration Project, please subscribe to our mailing list by filling out the form below.
Community events
SEPA Scoping Meeting (See the Duckabush SEPA page for more information.)
July 13 from 9:30 - 11:30 a.m. | Brinnon School (46 Schoolhouse Rd., Brinnon, WA 98320) 
Meeting materials: SEPA scoping public meeting presentation and posters
Press releases and communications
Press releases:
Olympia Canal Tracts Home Owners Association update:
Conceptual project design
A conceptual project design was developed as part of the Puget Sound Nearshore Ecosystem Restoration Project (PSNERP). The current design partnership with USACE, in conjunction with WSDOT and HCSEG, will incorporate site-specific data and public input to refine the conceptual design.
Project features include:
Relocate and elevate Highway 101 upstream to allow wetland habitat to be connected.
Remove existing Highway 101 fill, bridges and roadway to allow channels and wetlands to reconnect.
Remove levees/berms to allow channel migration.
Improve intersection of Highway 101 and Duckabush Road.
Modify Shorewood Road at Pierce Slough.
Excavate channels, increase habitat complexity, and plant native vegetation.