Project News
The Washington Department of Fish and Wildlife (WDFW) has formed an advisory group that will provide feedback to WDFW regarding a potential habitat restoration project on the Island Unit of the Skagit Wildlife Area. 
Project Background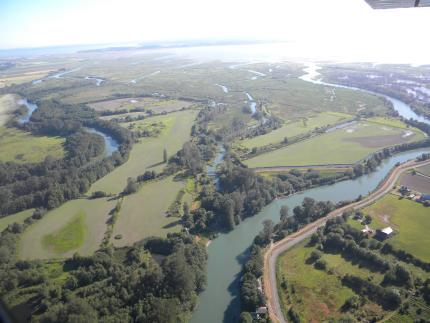 The Island Unit covers approximately 268 acres on two islands in a tidally-influenced reach of the South Fork Skagit River within the Skagit River delta. WDFW owns and manages the Island Unit as part of the 17,000-acre Skagit Wildlife Area and has actively farmed the area since the 1950s to provide enhanced winter forage for waterfowl. The site is sometimes referred to as the "farmed island" and is a productive and popular waterfowl hunting area.
WDFW needs to evaluate how to respond to a changing landscape on the Island Unit. For example, aging tide gates on the site and anticipated sea level rise are among some of the issues that will need to be addressed. The Island Unit is also a priority area to restore habitat for salmon. Historically, the site was a tidally-influenced estuary that provided critical rearing habitat for juvenile chinook salmon and other salmon and trout species. The Skagit Chinook Recovery Plan identifies estuarine habitat as the highest priority for recovering salmon in the area. 
WDFW is considering a habitat restoration project on the Island Unit, and will assess several options that range from no restoration to restoring all 268 acres. WDFW will evaluate options based on state requirements and policies, as well as community values and input from the advisory group and the public.
Community engagement
The Washington Department of Fish and Wildlife is committed to sharing timely project information with the local community, stakeholders, tribes and government agencies, as well as providing opportunities for comment during project planning.
Subscribe to email updates
To receive periodic updates on the Skagit Island Unit Alternatives Analysis, please subscribe to our mailing list by filling out the form below.
Press releases and communications
Press releases: July 29, 2019
Contact
For questions, please contact Seth.Ballhorn@dfw.wa.gov