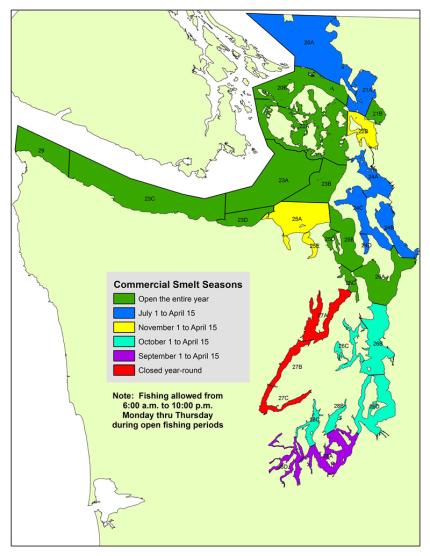 The 2019 Puget Sound Commercial Smelt Fishery is OPEN. See the map on this page for open areas/dates/times.
Make your quick reports by 2 p.m. the day after landing to smeltreport@dfw.wa.gov or 844-611-3822.
The fishery will close by emergency regulation when the 60,000-pound quota is reached.
Questions? Call Adam Lindquist at 360-902-2704.
Regulations
A commercial fishery for smelt is allowed in Puget Sound waters using drag (beach) seine gear with area, timing, and gear restrictions.
Regulations on commercial fishing for smelt in Puget Sound include:
An annual quota of 60,000 pounds.
Openings from 6 a.m. to 10 p.m. Monday through Thursday during seasonal openings in each area.
For more information, see:
If needed, an emergency regulation will be enacted when the annual commercial fishery quota is expected to be reached.
2019 Landings
Annual quota: 60,000 pounds
Total landed: 35,343 pounds
% of Quota: 59.1 percent
| Fishing Time Frame | Pounds |
| --- | --- |
| 8/12/2019 - 8/15/2019 | 6,846 |
| 8/5/2019 - 8/8/2019 | 4,051 |
| 7/29/2019 - 8/1/2019 | 7,015 |
| 7/22/2019 - 7/25/2019 | 4,270 |
| 7/15/2019 - 7/18/2019 | 2,026 |
| 7/8/2019 - 7/11/2019 | 7,081 |
| 7/1/2019 - 7/4/2019 | 3,190 |
| 6/24/2019 - 6/27/2019 | 0 |
| 6/17/2019 - 6/20/2019 | 453 |
| 6/10/2019 - 6/13/2019 | 0 |
| 6/3/2019 - 6/6/2019 | 70 |
| 5/27/2019 - 5/30/2019 | 0 |
| 5/20/2019 - 5/23/2019 | 0 |
| 5/13/2019 - 5/16/2019 | 0 |
| 5/6/2019 – 5/9/2019 | 341 |
| 4/29/2019 – 5/2/2019 | 0 |
| 4/22/2019 – 4/25/2019 | 0 |
| 4/15/2019 – 4/18/2019 | 0 |
| 4/8/2019 – 4/11/2019 | 0 |
| 4/1/2019 – 4/4/2019 | 0 |
| 3/25/2019 – 3/28/2019 | 0 |
| 3/18/2019 – 3/21/2019 | 0 |
| 3/11/2019 - 3/14/2019 | 0 |
| 03/04/19 - 03/07/19 | 0 |
| 02/25/19 - 02/28/19 | 0 |
| 02/18/19 - 02/21/19 | 0 |
| 02/11/19 - 02/14/19 | 0 |
| 02/04/19 - 03/07/19 | 0 |
| 01/28/19 - 01/31/19 | 0 |
| 01/21/19 - 01/24/19 | 0 |
| 01/14/19 - 01/17/19 | 0 |
| 01/07/19 - 01/10/19 | 0 |
| 01/01/19 - 01/03/19 | 0 |