Baker sockeye are native to Baker Lake and Baker River, a tributary to the Skagit River. Each year, sockeye returning to the lake are trapped below two dams before they are transported above the facilities where they are placed at artificial spawning beaches, used for production at the lake's hatchery facility, or released into Baker Lake to spawn naturally.
Natural spawning takes place mostly in seeps and springs at the head end of the lake and in the lower Baker River, although some sockeye may also enter other tributaries. Fry from the artificial spawning beaches and from hatchery production are released into Baker Lake and Shannon Lake, where they rear naturally.
At the smolt stage, sockeye are captured at both the lower and upper dams and released downstream for their seaward journey.
Baker River Project
Improvements in the smolt trapping and transportation system at the dams have contributed, at least in part, to the rebound of the Baker sockeye population from a long decline.
Puget Sound Energy employees operate and maintain the facilities at the Baker River Project under the directives of WDFW and tribal co-managers. These facilities not only include the hatchery and spawning beaches, but also an upstream trap-and-haul facility, and floating surface collectors for juvenile fish at Baker Lake and Lake Shannon.
Sockeye returns
Adult Baker sockeye enter the trap from mid-June to mid-October. Numbers of returning fish peak in mid-July. Spawning occurs from mid-September through December, peaking from late September to late November.
Baker River sockeye salmon trap counts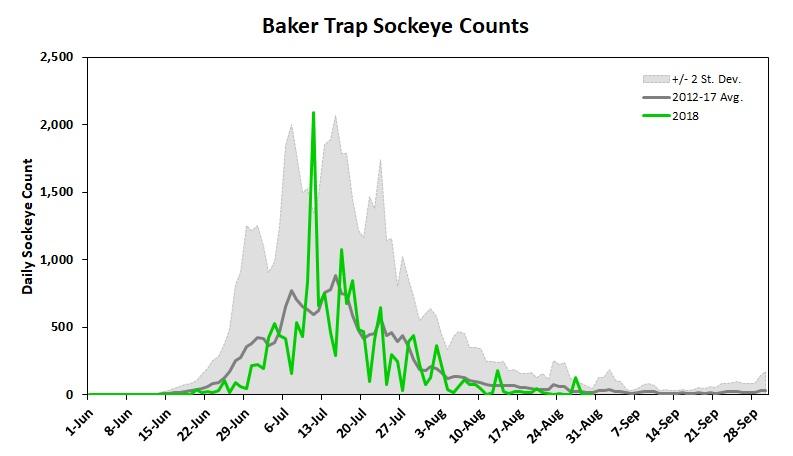 Baker River Sockeye Salmon Trap Counts by Year
| Year | Trap Count |
| --- | --- |
| 2017 | 16,704 |
| 2016 | 24,989 |
| 2015 | 31,928 |
| 2014 | 13,788 |
| 2013 | 12,534 |
| 2012 | 28,410 |
| 2011 | 27,195 |
| 2010 | 14,239 |
| 2009 | 6,486 |
| 2008 | 3,211 |
| 2007 | 2,763 |
| 2006 | 8,325 |
| 2005 | 3,191 |
| 2004 | 9,106 |
| 2003 | 20,235 |
| 2002 | 4,021 |
| 2001 | 4,942 |
| 2000 | 10,384 |
| 1999 | 4,654 |
| 1998 | 13,187 |
| 1997 | 7,099 |
| 1996 | 7,769 |
| 1995 | 2,181 |
| 1994 | 15,991 |
| 1993 | 3,818 |
| 1992 | 2,443 |
| 1991 | 480 |
| 1990 | 1,977 |
| 1989 | 536 |
| 1988 | 818 |
| 1987 | 683 |
| 1986 | 542 |
| 1985 | 99 |
| 1984 | 358 |
| 1983 | 735 |
| 1982 | 1,869 |
| 1981 | 208 |
| 1980 | 499 |
| 1979 | 865 |
| 1978 | 2,716 |
| 1977 | 1,707 |
| 1976 | 1,518 |
| 1975 | 1,303 |
| 1974 | 3,611 |
| 1973 | 3,656 |
| 1972 | 10,031 |
| 1971 | 2,931 |
| 1970 | 821 |