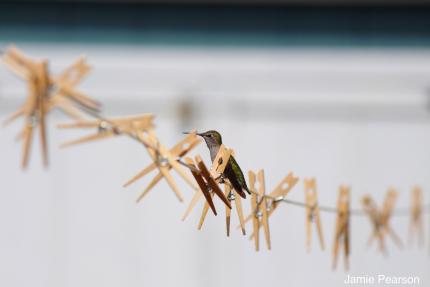 A bald eagle soars over a high bluff surveying the waters below. A red-tailed hawk with outstretched wings drifts effortlessly over a forest and open field. Hummingbirds zip by your window on their way to the flower garden. The morning dew highlights fragile spider webs at the forest edge. This is Washington state -- a great place to live.
A land we all love, yet one we may be smothering with our numbers. Over 35,000 acres of wildlife habitat is converted to housing and other development each year here in Washington. If we continue at this rate, many of our native wildlife species will have few places to live and visit. So the Washington Department of Fish and Wildlife instituted the Backyard Wildlife Sanctuary Program to help offset some of this habitat loss. While many of us may not realize it, a property owner is also a habitat manager. The things we do, or do not do, in the vicinity of our home have an effect on the quality of habitat for dozens of wildlife species.
The Department of Fish and Wildlife wants to help you understand and appreciate the wildlife around your home. You can make your property a better place for songbirds and other wildlife species that have lived in your area long before people began to settle.
Want to make your property better for wildlife?
Consider these suggestions to improve your property for wildlife:
Plant more trees and shrubs. Remember, vegetation is the key to attracting a variety of wildlife. Dead trees (snags) are especially valuable to wildlife; try to keep them on your property if they pose no safety hazard.
Add a birdbath, garden pond, or other source of water. A safe place to bathe and drink will act as a magnet to many animals.
Add bird houses, or better yet, try to leave snags on your property. Cavity-nesting birds have been especially impacted by urban development. A bird house of the proper dimensions can substitute for snags where these birds used to nest.
Cover any openings under the eaves or other places around your house where house sparrows and starlings may nest. These non-native birds are undesirable competitors for food and nesting cavities and many native birds have suffered because of their presence. Bird houses and feeders should be designed and managed to reduce use by sparrows and starlings.
Control cats that may be prowling around your sanctuary; they can be especially harmful to birds that feed or nest on the ground. Visit the American Bird Conservancy Website for information on their "Cats Indoors!" program for ideas on how to keep your cats indoors.
Get your neighbors interested in backyard wildlife. Several adjacent yards with good wildlife resources are even more effective. Most wildlife species need areas larger than a single lot can provide. Remember, every homeowner is a habitat manager, and the collective actions of conscientious homeowners will benefit the wildlife that shares your living space.
Keep bird feeders clean and safe, if you choose to feed for your own viewing pleasure.
Apply for backyard sanctuary certification
The Washington Department of Fish and Wildlife looks forward to acknowledging your efforts to provide habitat for wildlife where you live or work. Fill out this application and send it in along with your $10 payment. We'll send you a personalized certificate suitable for framing and a yard sign to educate others about your habitat project. Please allow 8-10 business weeks for processing.