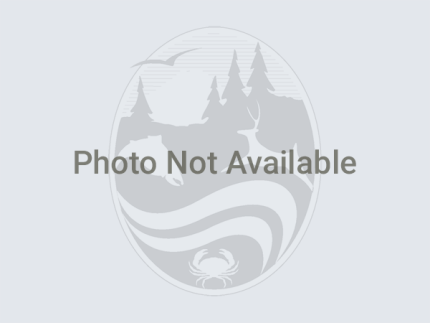 Latin name
Euchloe ausonides
The Island Marble, a beautiful white butterfly with green 'marbling' on the underside of the wings, was discovered by early Canadian lepidopterists (butterfly specialists) in 1861 on Vancouver Island and it was last seen in 1908 on nearby Gabriola Island. No one saw it again for 90 years. In 1998, zoologist John Fleckenstein of the Washington Department of Natural Resources collected a butterfly on the south end of San Juan Island. It looked like a species of marble butterfly, but they were not known to occur in western Washington. It was only after he took the specimen to experts that the Island Marble, a butterfly believed to be extinct for almost 100 years, was correctly identified and officially "re-discovered."
Description and Range
Physical description
The Island Marble is a medium-sized creamy white butterfly that measures approximately 1.75 inches (4.5 centimeters) wing tip to wing tip. It is white above, with black-patterned wingtips, and a fine black rectangle mid-wing. It has a mottled pattern of greenish-yellow on the underwings. The Island Marble's flight pattern is straight, fluttering and fast. Marbles may feed and perch with wings either folded or flat.
Geographic range
After hundreds of surveys at potential locations in the San Juans, Gulf Islands, Vancouver Island, Olympic Peninsula, and northern coastal Puget Sound, only a few small populations were found on San Juan and Lopez Islands. Because of its rarity and small population numbers, the governments of British Columbia, Washington, and the United States have identified it as a species of conservation concern.
Conservation
Many partners are working together to conserve and protect Island Marble butterflies. The U.S. Fish and Wildlife Service and the National Park Service have entered into a Conservation Agreement that implements conservation measures specifically addressing the needs of this butterfly. Biologists are conducting annual surveys for the Island Marble at known and potential sites. The National Park Service is controlling non-native invasive shrubs in Island Marble habitat and has used prescribed fire to control native shrubs and trees. Partners in Island Marble Conservation include the U.S. Fish and Wildlife Service, Washington Department of Fish and Wildlife, San Juan Island National Historical Park, Washington Department of Natural Resources, The Xerces Society, KWIAHT (Center for the Historical Ecology of the Salish Sea), San Juan County Land Bank, the San Juan Preservation Trust, private landowners, and other organizations and individuals.
Research by the University of Washington and Western Washington University is also underway to learn more about the population size, life history, and habitat needs of the Island Marble.
More information:
Threats
Threats to Island Marble habitat include conversion for development and encroachment by trees and shrubs. Mustards, the larval host plants for the Island Marble, germinate and grow after ground disturbing activities like plowing, burning, and digging by animals and humans. While these activities can help create habitat for the Island Marble, they can be damaging once the mustards are present. Mowing, grazing, trampling of vegetation, burning, plowing, and herbicides can harm or kill mustard plants. Pesticide use, including the biocide Btk (Bacillus thuringiensis var. kurstaki), on and around plants can kill butterflies and larvae. Deer predation, by way of eating the mustard flowers where eggs are deposited and larvae develop, is common and presents a threat to the butterfly.
How you can help
It is illegal under Washington State law to collect this butterfly, even for catch and release, without a state permit. The National Park Service must approve any research, handling, or other study of the Island Marble on National Park property.
The continued survival of the Island Marble hangs in the balance. People who live and work in the San Juan Islands are encouraged to get involved in the conservation of this rare butterfly. Here are some things you can do to help conserve the Island Marble.
Report Island Marble Sightings
If, after close-up observation of a perched individual, you believe you have sighted an Island Marble in an area other than the south end of San Juan Island, please report it to one of the contacts below.
Washington Department of Fish and Wildlife: 
Ann Potter (Wildlife Biologist) 
E-mail: ann.potter@dfw.wa.gov 
Phone: 360.902.2496
Ruth Milner (Wildlife Biologist)
E-mail: ruth.milner@dfw.wa.gov 
Phone: 360.466.4345 ex. 265
U.S. Fish & Wildlife Service: 
Karen Reagan (Ecologist) 
E-mail: Karen_Reagan@fws.gov 
Phone: 360.753.9440