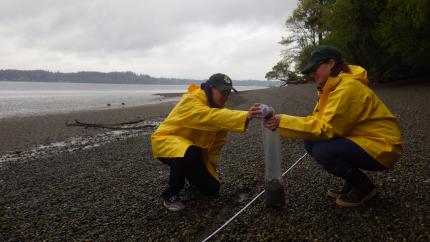 Surf smelt (Hypomesus pretiosus) and Pacific sand lance (Ammodytes hexapterus) are important food for marine mammals, birds, and fishes, including Pacific salmon. The Washington Department of Fish and Wildlife protects these fish species and their spawning habitat by limiting human activities under the terms of a permit (called the Hydraulic Project Approval, (HPA)) on beaches where spawning has been documented. Extensive surveys have sampled many of the beaches in Puget Sound. However, despite good information on the distribution of spawning beaches our understanding of the ecology and protection needs for these species is very limited.
The Washington Department of Fish and Wildlife conducts research that will allow us to better ensure adequate protection of Pacific sand lance and surf smelt given current and anticipated environmental conditions, without unnecessarily constraining human activity. This research includes conducting surveys of forage fish habitat to determine where and when these fish spawn. These surveys are carried out year round on beaches throughout Washington's shoreline. These surveys consist of the documenting beach conditions and collecting a bag of about 2 liters of sediment to examine in the lab for the presence of fish eggs. Shoreline property owners who would prefer to have their property removed from potential sampling areas for this project can notify us by filling in this opt-out form.
Publications & Posters
Forage Fish Beach Survey Training Materials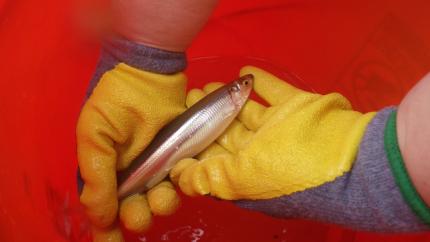 Disclaimer:  The files below consist of background and survey protocol information for conducting forage fish spawning beach surveys.  All surveys conducted by individuals not employed by WDFW require a scientific collection permit or memorandum of understanding from WDFW.  Surveys related to HPA permits may only be conducted by WDFW or an approved biologist (WAC 220-110-271).  To get details on how to become an "approved biologist" contact Phillip Dionne, phillip.dionne@dfw.wa.gov, 360-902-2641.
Survey protocol handouts:
Spawning Location Map
The map below shows the documented spawning locations of Pacific Sand Lance, Surf Smelt, and Pacific Herring in Washington State. This map should not be considered all inclusive of spawning habitat because not all potential spawning habitat has been surveyed, and it is possible for surveys to fail to detect eggs even when eggs are present.
View Larger Map