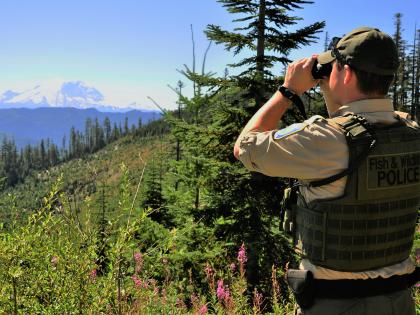 High school students explore the variety of opportunities within the Washington Department of Fish and Wildlife Enforcement Program. 
Students read career stories of three officers throughout the state. This lesson also includes a PowerPoint PDF to give students a better idea of the type of work officers do and the requirements necessary for this challenging, yet rewarding career.  
WDFW officer opportunities include:  
Karelian Bear Dog (KBD) Handler 
Undercover operations 
Defensive tactics instructor
Firearms instructor
Vessel operation instructor
Swift-water rescue team 
SCUBA Team 
For students interested in exploring this career path, we recommend taking a look at the Washington Office of the Superintendent of Public Instruction's Career and Technical Education (CTE) for Law, Public Safety, Corrections, and Security.  
Materials
Career cards
Wild Washington LIVE! "Career Connections"
Recorded Feb. 26, 2021