2018 Round 2 Hydraulic Code Rule Making
Why new rules?
On April 14, 2018, the Fish and Wildlife Commission directed WDFW to begin rulemaking to require individual Hydraulic Project Approval (HPA) permits for all suction dredge mineral prospecting.  
What are the proposed changes?
WDFW's goal is to modify rules to authorize suction dredging activities through standard HPAs rather than under the Gold and Fish Pamphlet.
WDFW's objectives in this rulemaking include:
Develop an individual HPA application method for suction dredging that is streamlined;
Develop application and reporting methods to enable WDFW to determine:

the number of prospectors engaged in suction dredging and
where and how much suction dredging occurs; and

Identify methods to prevent the spread of aquatic invasive species through the movement of suction dredging equipment into and around the state.
Steps in the suction dredge rule making process:
Host 4 public meetings to explain the scope of rule making and discuss with the public: (Summer 2018)

Meetings were held in July 2018: July 16 - Wenatchee; July 17 - Spokane Valley; July 19 - Olympia; July 25 - Everett
Background science documents are available:

California Department of Fish and Game Suction Dredge Permitting Program Literature Review (September 2009) - Appendix D to Suction Dredge Permitting Program Draft Subsequent Environmental Impact Report, February 2011, available at a link found on this page:  https://www.wildlife.ca.gov/Licensing/Suction-Dredge-Permits

Develop the language for specific rule change proposals (Fall 2018)
Make a State Environmental Policy Act (SEPA) threshold determination
File a Notice of Proposed Rule Making (CR-102) with the Washington State Code Reviser
Provide a Draft regulatory analysis document, including:

A preliminary cost-benefit analysis
Least Burdensome Alternative analysis; and
Determinations for Significant Legislative Rules

Accept public comments from February 25, 2019 through 5pm Monday April 8, 2019.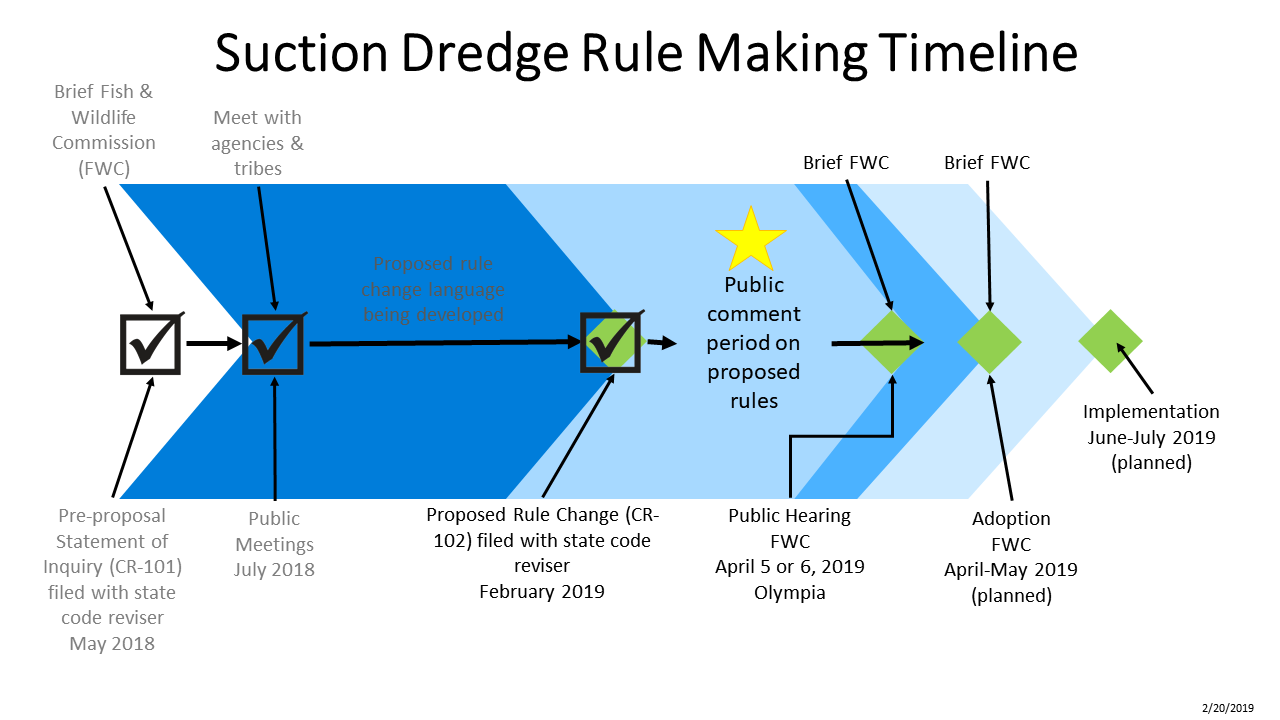 Fish and Wildlife Commission will hold a public hearing Friday or Saturday April 5 or 6 at the Natural Resources Building in Olympia, WA., to listen to oral public testimony - check the agenda for specific day and time
Prepare recommendations for the Fish and Wildlife Commission
Adopt rules April 19 or May 10
Adopted rules become effective by July 1, 2019.
Updates will be posted here as they become available.
For Further Information
Randi Thurston,
Protection Division Manager
HPARules@dfw.wa.gov