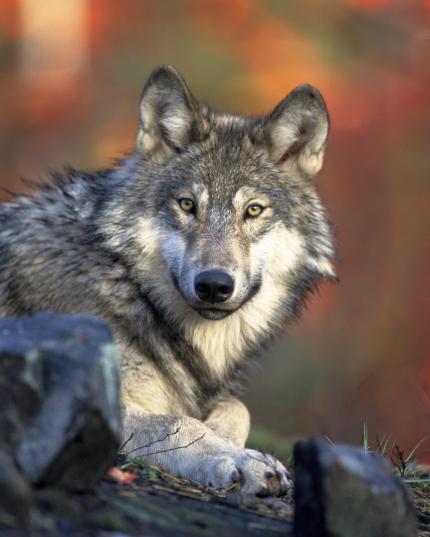 See WDFW's "Gray Wolf Conservation and Management" website for detailed information on wolves in Washington.
Gray wolves are highly social and live in packs. The pack usually consists of a dominant breeding pair (an alpha male and alpha female), their offspring from the previous year, and new pups. Other breeding age adults may be present, but usually only one pair will breed in each pack in any given year. The pack often hunts, feeds, travels, and rests together, although they may split up from time to time to patrol their territory or search for food. The pack also shares pup-rearing responsibilities, including hunting and tending pups. Pack sizes can range widely, but a typical pack in the northern U.S. Rockies is five to 10 animals.
Lifespan
Few wolves live more than five years in the wild, although individuals have been known to reach 15 years of age. Research in the northern Rocky Mountain states has shown that humans cause most wolf deaths in the region. Causes include illegal killings, legal harvest, vehicle collisions, and management removals.
However, in areas such as Yellowstone National Park, where wolves are fully protected, most wolves die from natural causes, such as territorial conflicts with wolves in neighboring packs, injuries while hunting prey, starvation, or disease.
Pack litters
Wolves usually mate in mid to late February, and the pups are born about two months later. Most packs produce one litter annually, typically consisting of four to six pups. Wolves often develop dens in underground burrows, but also use abandoned beaver lodges, hollow trees, and shallow rock caves.
As pups grow older, they are taken from the den to a protected location known as a rendezvous site. A rendezvous site is where the pack will take young wolves before they're able to travel and hunt with the pack. One or more rendezvous sites are used over the summer until the pups have matured.
Hunting methods
With their large size, powerful jaws, large teeth, speed, endurance, and habit of hunting in packs, wolves are keenly adapted to hunt large prey. In the central and northern Rocky Mountains of the U.S. and Canada, wolves often prey on elk, deer, and moose. Despite their hunting abilities, the majority of wolf hunts are unsuccessful. Wolves will also scavenge carrion and eat smaller animals. In some instances, wolves have been known to kill and feed on domestic livestock and poultry, including cattle, sheep, and chickens.
Wolves are opportunistic hunters and tend to prey mainly on younger, older, and debilitated animals. This can leave prey herds with more healthy animals of prime age, thereby enhancing productivity. Wolves alone rarely influence the abundance of healthy prey populations. In some situations, such as in concert with other predators (including humans), or when prey species occupy marginal habitat, wolves may influence prey abundance. It has been theorized that wolves affect the behavior of their prey, thereby affecting vegetation patterns, occurrence of other wildlife, and other ecological processes, however, these affects vary greatly and depend on prey populations, specific landscape features, and importantly, wolf abundance.
Description and Range
Geographic range
A wolf pack establishes a territory and defends it against neighboring packs. Territories usually average 140 to 400 square miles, and their size often varies from year to year. Territories are often smaller when prey is more plentiful and other packs live nearby.
Howling is a common behavior that helps pack members communicate and stay together. Howls are audible for up to five miles, and tend to be long and drawn out compared to the shorter yapping sounds made by coyotes. Wolves also growl and bark.
Most young wolves leave their birth packs when they are 2 or 3 years old to search for a mate and start a new pack of their own. Dispersing wolves usually relocate about 60 miles from their birth pack, but can travel up to 500 miles or more.
Habitat
Wolves are highly adaptable and can live in a variety of habitats if sufficient prey is available. In the northwestern states and western Canada, wolves are most common in relatively flat forested areas, rolling hills, or open spaces such as river valleys and basins, where prey animals are easier to chase and catch.
Wolf populations fare best in areas away from humans and their activities. These tend to be remote, relatively unpopulated areas with extensive public lands, few roads, and few or no livestock.
The presence of wolves can benefit natural plant and animal communities by preventing the overpopulation of prey and helping maintain the natural occurrence of certain plant and wildlife species.
Living with wildlife
Understanding wolf behavior and habituation
Normal wolf behavior can easily be confused as habituation (becoming too comfortable with humans).
Wolves are often described as shy and fearful of humans. Consequently, when a person sees a wolf pup lying in the middle of a dirt road or an adult wolf trails a person through the woods, they describe the wolf as exhibiting odd behavior, or "habituated."
Examples of common wolf behavior
A wolf traveling on roads or trails, showing curiosity towards dogs, walking past houses in rural communities, or trailing behind people who get too close to a wolf den or rendezvous site are all activities that describe normal wolf behavior.
It is common to hear a wolf bark-howl in response to a person's presence near a den or rendezvous site. A barking wolf that appears to "stand its ground" is warning a person to stay out of the area and alerting the rest of the pack to a potential intrusion. When the person retreats, the wolf may follow the person at a distance to ensure the person has left the area and is no longer deemed a threat to the pups. This wolf is not habituated; it is protecting its pups from disturbance.
A wolf that approaches a hunter who is dressed in camouflage to hide their human appearance and mimicking the sound or scent of the species hunted is not habituated. The wolf is investigating a potential, albeit fake, food source.
An elk hanging in a hunting camp may attract a wolf to the campsite. The wolf smelled a natural food source. If the wolf stays on the outskirts of the campsite and leaves after it recognizes people, it is not habituated.
Wolves displaying behaviors such as rummaging through a campsite, approaching vehicles, and accepting food handouts are considered habituated. If a wolf rips up a tent or tears apart a backpack at a campsite, then it is habituated. Relatively few cases exist of humans being bitten or killed by wild wolves. In most situations, these wolves were sick, had become accustomed to eating from garbage dumps, or were fed by people, thereby losing their natural fear of humans and associating humans with food.
Any wild animal can be dangerous, particularly if it is provoked, sick, injured, protecting its young, has become accustomed to people, or has learned to associate people with food. Follow the recommendations below to minimize human-wolf interactions.
Keep wolves wild
Never feed wolves. Some examples include disposing of livestock scraps in areas accessible to wildlife, leaving garbage at a campsite, using a bait pile to get trail camera photographs, and tossing human food to a wolf.
Never disturb wolf dens or rendezvous sites, especially between April and September.
Secure pet food and garbage at residences.
Keep dogs inside or in a predator resistant kennel/fencing, especially at night.
Feeding deer, turkeys, and other wildlife may encourage wolves to visit your property.
Install strobe or motion sensor lights around your house and outbuildings.
Utilize livestock husbandry practices that minimize the potential for wolf-livestock interactions, such as fencing, strobe lights, moving sick/injured livestock to a secure location, and disposing of dead livestock so it is inaccessible to scavenging.
If you encounter a wolf
Do not approach the wolf.
Leash your dog. Do not allow it to chase or interact with the wolf.
Back away slowly. Leave the area. Allow the wolf space, especially if you have stumbled upon a den, rendezvous site, or kill site.
If you feel threatened by a wolf
Stay calm. Do not run. Carnivores may instinctively chase something that runs.
Use loud noises such as an air horn, yelling, or a whistle to scare wolves.
Make yourself larger by raising and waving your arms, especially if you are wearing camouflage clothing.
Bear spray may be an effective tool if within range.
Throw objects such as sticks.
Keep direct eye contact.
To report a wolf sighting, please visit the wolf observations page. To report unusual wolf behavior, call 1-877-933-9847. Additional information about wolves in Washington can be found on WDFW's Gray Wolf Conservation and Management website.
Recreating with your dog
Dog owners need to be aware of the possibility of encountering a wolf, or other carnivore, if they live in, or plan to visit, potential wolf habitat anywhere in Washington. Wolves view domestic dogs (pets, herding dogs, hunting dogs, etc.) as competitors and will protect their territory from intruders.
In Washington, wolves den from April into July. After denning, wolves establish rendezvous sites, which are areas of concentrated wolf activity often associated with feeding, resting, and gathering. Wolves may establish rendezvous sites as early as mid-May and as late as the end of September. Wolves move weaned pups to rendezvous sites until they are old enough to travel with the pack. Several rendezvous sites may be used in one year and the locations of these sites often vary from year to year. A dog running through a wolf pack's rendezvous site is perceived by wolves similarly to a burglar coming into your home.
Wolves are curious and territorial by nature and consequently may appear to "stand their ground." However, wolves may also chase or fight with a dog that comes near their pups. If you encounter a wolf, do not run but leave the area. It is not unusual for wolves to follow a person at a distance until it is reassured they are leaving the area.
Wolves howl for several reasons, including announcing their presence to other wolves, locating members of their pack, and as a warning to intruders. Often times, wolves will bark-howl to indicate the intruder is too close.
To reduce the potential for interactions between a wolf and your dog, adhere to the following:
Keep your dogs leashed and under your immediate control. 
Never leave your dog unattended.
Do not allow dogs to chase wildlife.
If camping, store all food in wildlife resistant containers and clean up any spilled food.
Avoid areas with concentrated wolf sign (tracks and scat).
Do not search for den, rendezvous, or kill sites.
Never approach a wolf.
If a wolf barks, you have likely entered an activity center for wolves. You should leave immediately and walk back in the direction from which you came.
If you encounter a wolf, do not run. Maintain eye contact and leave the area. The wolf may "escort" (follow) you for a short distance.
To find more information regarding wolves in Washington or to report a wolf sighting, visit WDFW's Wolf Conservation and Management website.
People experiencing interactions with wolves may contact a WDFW regional office. In an emergency situation, call 911.