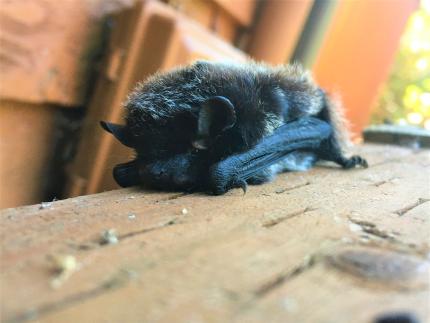 Latin name
Lasionycteris noctivagans
In Washington, some individual bats migrate while others hibernate. Males and females occupy separate summer ranges throughout much of their range, but in Washington, the trend towards summer habitat separation may be less pronounced.
Silver-haired bats probably breed in fall and winter, with fertilization delayed until spring. One or two pups are born in June or July. Lactating females roost in small colonies of typically 5 to 25 individuals in the cavities of large dead or dying trees. Males and non-reproductive females roost solitarily in cavities or under the loose bark of large, decaying trees. Young are able to fly at about three weeks old.
Silver-haired bats forage on a variety of small to medium-sized flying insects, especially moths and flies, over water bodies within forested areas. They winter alone or in small groups, and both sexes may be found together.
Non-migrating individuals may hibernate in trees as well as man-made structures. Wintering silver-haired bats may rouse from torpor and forage in western Washington when conditions are sufficiently warm.
Description and Range
Physical description
The silver-haired bat is a medium-sized bat with very dark fur tipped with silver or white. The wings and tail membrane are black. Ears are short and round with a short, blunt-tipped tragus. The dorsal surface of the tail membrane is partially furred and the calcar lacks a keel.
Food habits and foraging
In the Pacific Northwest, this species forages mainly on moths, flies, beetles, leafhoppers, true bugs, neuropterans, and caddisflies. Moths and flies are important prey in some coastal wet forests, with evidence of moderate dietary specialization on moths in inland dry forests.
Foraging typically occurs in and over forests and riparian zones; over openings, streams, and ponds; and along forest margins. In western Washington, peaks in nocturnal activity occur for several hours after sunset and again before sunrise. Foraging may be reduced on summer nights with cool air temperatures (<8°C, <46°F), but is known to extend through winter in Washington. Adults generally forage singly, although pairs and groups of 3 to 4 bats are also observed. During migration, silver-haired bats feed along intact riparian areas in arid rangelands. Because of their short broad wings, low- to mid-frequency echolocation calls, and slow agile flight, they can detect and capture small insects at close range.
Reproduction
Mating likely occurs during autumn migration and winter. Pregnancy lasts 50-60 days, with births occurring in late June or early July. Females give birth to one or two young, with two being most common. In Washington, volant young have been detected beginning in early August.
Geographic range
Silver-haired bats range broadly across North America from southeastern Alaska across the southern half of Canada south through most of the contiguous U.S. and into northeastern Mexico. The species is present throughout Washington.
Silver-haired bats typically reside in forests and riparian zones. Older, more structurally diverse forests generally appear preferable to younger, intensively managed forests due to differences in roost availability and canopy structure suitable for foraging. In Washington, this species occurs in forests and suburban/developed areas and has been described as largely absent from shrubsteppe except during migration. There is some evidence which suggests the species is a summer resident in some areas of shrubsteppe; clumps of trees found in riparian areas or on farmsteads in this habitat may be sufficient to support resident populations. Elevations from sea level to at least 1,830 meters are used.
Roosting
Silver-haired bats roost most commonly in snags and live trees, including ponderosa pine, Douglas-fir, lodgepole pine, western white pine, western larch, western red cedar, grand fir, aspen, and black cottonwoods. Buildings (especially exteriors), bat houses, and wood piles are also regularly occupied in Washington. Maternity colonies usually contain 5 to 25 females and have rarely reached 70 individuals. Maternity groups roost mainly in cavities in large snags in various stages of decay, especially those protruding above the surrounding canopy, being farther from other tall trees, and having less vegetative matter immediately above and below the roost site.
Their day roosts occur in large trees in intermediate stages of decay under loose bark, in cracks or crevices, and in cavities. Solitary individuals may switch roosts daily or less frequently.
Information about night roosts is lacking, but the species rarely if ever occurs at sites (e.g., bridges, buildings) commonly used by other bat species. During migration, silver-haired bats roost mainly in trees. Most migrating individuals roost alone, although single bats may occur in different parts of the same tree. Other roost structures used during migration include buildings, lumber piles, fence posts, utility poles, and mines. Migrating bats may remain torpid for several days during cool temperatures.
Hibernation and migration
Silver-haired bats occupy a variety of winter roost sites, including trees, buildings, abandoned mines, and more rarely in rock crevices and caves. In western Washington, buildings, trees, and bat houses are occupied at this time of year. Winter roost trees include large western red cedar, large Douglas-fir trees and snags, and decadent big-leaf maples, with crevices and sites beneath loose bark being occupied. Hibernation roosts require stable microclimates. Ambient temperatures of –0.5 to –2ºC (28.4–31.1°F) have been reported in old mines used as hibernacula. During winter, silver-haired bats hibernate and/or use daily torpor depending on the severity of weather conditions.  Hibernation and winter daily torpor may be interspersed with bouts of foraging, especially in western Washington. Silver-haired bats winter alone or in small groups that can contain both sexes.
Most northern populations migrate to the more southern parts of the species' range to overwinter. However, Washington's population is comprised of both year-round residents and migratory individuals. Museum records and detections of foraging and roosting animals suggest that large numbers of silver-haired bats occur year-round in western Washington, whereas smaller numbers are present in eastern Washington. It appears that significant numbers of individuals also migrate through the state, as indicated by mortality records from wind energy facilities and other data. Spring migration in Washington occurs from about late April to late May and that fall migration lasts from about mid-August to late October. This species appears to migrate singly or, less often, in small groups. Individuals fly about 250-300 km per night while migrating.
Conservation
Pre-construction surveys of proposed wind energy facilities should be made to establish the timing and location of potential conflicts so that mitigation measures can be used to reduce mortality to this species.
At existing wind farms, surveys are needed to document mortalities and measures are needed to reduce mortalities.
Forestry practices should maintain an abundance of large snags to provide a diversity of potential roost sites so that the different seasonal thermoregulatory needs of males and females are met.
Providing small groups of suitable snags may increase use of a site by silver-haired bats because of the availability of alternate roosts in proximity.
Documentation of the temporal and spatial distribution of this species throughout Washington, including important migratory pathways, will help inform conservation measures and the appropriate time to apply them.
Preventing conflict
For some people bats don't present a problem. For others, bats can be a worry, especially when they become unwanted guests in an attic, inside a wall of a home, or inside the home itself.
Unlike rodents, bats only have small teeth for eating insects, so they do not gnaw holes in walls, shred material for nests, chew electrical wiring, or cause structural damage to buildings. Damage caused by bats is usually minimal, but they can be noisy and alarming, and the smell of bats and their droppings can be offensive. It is possible to learn to coexist with bats, and to benefit from their presence.​ Learn more on our Living with Wildlife: Bats webpage.