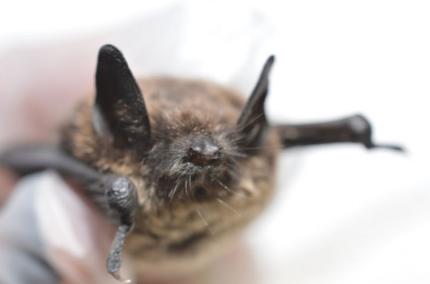 Bat Conservation International (BCI) has the latest information on why bats are mentioned in news coverage about the spreading novel coronavirus (COVID-19). Read BCI's frequently asked questions on bats, coronaviruses, and zoonotic disease. 
White-nose syndrome has killed millions of bats in eastern North America since 2006. Washington's first case of the disease was confirmed in March 2016 near North Bend in King County.
Report your bat observation
Bat rehabilitators 
If you see or recover a sick or injured bat, call one of the permitted bat rehabilitators listed below for instructions on how to handle the bat and bring it to their facility. Please also report your bat observation. Never touch a bat with your bare hands. 
Please note: Only PAWS Wildlife Center and Happy Valley Bats are approved to rehabilitate bats with signs of white-nose syndrome. 
Jefferson County
Center Valley Animal Rescue, 360-765-0598
King & Snohomish counties
PAWS Wildlife Center, 425-412-4040 
Kitsap County
West Sound Wildlife Center, 206-855-9057
San Juan County
Wolf Hollow Wildlife Rehabilitation Center, 360-378-5000
Snohomish County
Bat Rehabilitation, 425-481-7446
Happy Valley Bats, 360-652-7690
Sarvey Wildlife Care Center, 360-435-4817
Wisp of Hope Bat Rescue and Rehabilitation, 425-293-2708
Stevens County
Chewelah Veterinary Clinic, 509-935-6424
Whatcom County
Whatcom Humane Society Wildlife Rehabilitation Services, 360-966-8845
Whitman County
WSU Exotics and Wildlife Ward, 509-335-0711