The 2019 Road Access Entry Program is now closed. Application submissions begin and booklets will be available June 1, 2019.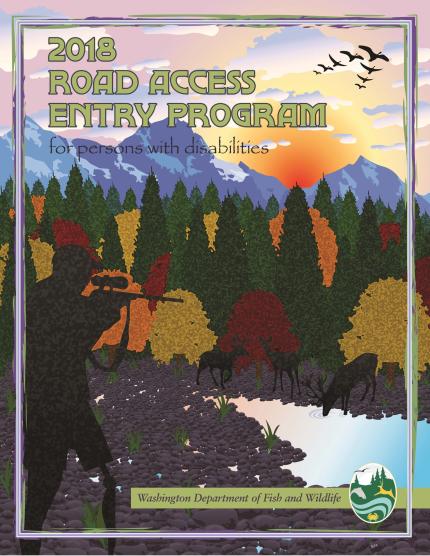 The Road Access Entry Program provides access to hunters with lower extremity mobility disabilities into areas with fewer barriers and vehicle distraction.
About the program
This is a cooperative effort between the Washington Department of Fish and Wildlife (WDFW), Recreation and Conservation Office, Department of Natural Resources (DNR), U.S. Forest Service, private timber companies, and hunters with disabilities.
This is not the same as the special permit drawings offered each year in the"Big Game Hunting Seasons and Regulations" booklet. This is not a permit drawing for deer or elk tag, doe or cow tag.
If drawn, you will be issued an access special use permit by the land manager allowing you to drive a motorized vehicle into a closed or gated area where other hunters must walk in.
All areas are:
Still open to walk-in hunters.
Open to administrative use by the agency or land manager.
Subject to closures for logging, fire, emergencies, etc.
You do not have to buy your license or tags first to apply for these Road Access Entry Permits; you only need to be a WDFW registered hunter with a disability and have your Disabled Hunter WILD ID number available (This number is found on your license).
However, if drawn for a Road Access Entry Permit, you must have all appropriate licenses and tags for the game you are pursuing.
Everyone must follow all state regulations pertaining to hunting.
Qualifying for the program
To apply for this ADA accommodation, you must meet the following criteria:
Have WDFW disability status in good standing, and
Have a permanent inoperable lower extremity mobility (ambulation) impairment, and
WAC 232-413-140(1)(a): Have been medically prescribed the use of an assistive device every time for mobility, including, but not limited to, a wheelchair, walker, crutch, lower extremity prosthesis, oxygen bottle, heart pump, or
RCW 46.19.010(1)(a-j): Have been issued a DOL disability parking permit or license plate, or
Unable to walk more than 200 feet.
How to apply
Application submissions begin the first week of June. You must fill out an official WDFW application form for deer and/or elk and return it to the mailing address below or submit one online by July 31 in order to be eligible for the drawing. To apply by mail: Road Access Program booklets are available June 1 - July 31 of each year at any of WDFW's regional offices, Cabela's, Bass Pro Shop, or by calling WDFW's licensing division at 360-902-2464.
Only one application form per hunter is allowed. If you submit more than one entry form you will not be able to participate in the drawing and your entry forms will be destroyed.
Please read where the Road Access Areas are located and apply only for those areas you would actually travel to should you be drawn.
If applying for elk, the west side and east side elk tags are different and you must hunt in compliance with your tags and equipment.
Game Management Unit (GMU) numbers for the Road Access Entry Areas are listed at the top of each page for your convenience.
Filling out the submission form
You have up to four elk and four deer road choices. Fill out the submission form with the entry number(s) for the road area(s) you would like to drive into.
Enter the number listed under the "Entry Number" column into the choice box on the submission form.Do not use the GMU number. If GMU's are entered then the form will be destroyed.
Entry Numbers are separated into two groups:
The "D" is for deer hunts (e.g. D173)
The "E" is for elk hunts (e.g. E285)
Your WILD ID number must appear on the entry form to qualify for the drawing. Please print your Name, full mailing Address, Telephone number with area code and your WILD ID number (found on your hunting license) clearly onto the form.
If you want to be considered as an alternate, check the "alternate" box. If there are areas left over WDFW will, wherever possible, match unsuccessful hunters with disabilities to an area close to their preferred choices by geographic location.
Mail form to:
Washington Department of Fish and Wildlife
ADA Access Program Manager
PO Box 43139
Olympia, Washington 98504
All forms must be postmarked by July 31.
Drawing notification
Hunters who have been drawn will be notified no later than Aug. 31. Hunters with disabilities who are not drawn will not be notified.
Those who are drawn will receive information that includes:
Letter of congratulations
The Road Access Entry Area for which they were drawn
Instructions on how to obtain the entry permit, key, map, etc.
You may be required to visit the land managers office in person at a specific time to pick up a key, sign papers, and leave a check for a key deposit.
Designated Hunting Companion
Hunting areas have different rules about whether the hunter companion can also hunt on their own tag, or must only assist the disabled hunter in the harvest.
Successfully drawn hunters with disabilities and their designated hunting companions must follow the rules of the program while hunting and driving in the permit area. You will receive a list of these rules when you receive your Road Access Entry Permit.
If allowed on the entry special use permit, other non-hunting persons or family members besides your hunting companion may be allowed to accompany the hunter with a disability. Each land manager makes this decision, so check before you go.
Review
All packet information is available online or by calling 360-902-2349. Questions regarding DNR lands should be directed to 360-902-1375.
Entries for the Disabled Hunter Road Access Permit drawing for deer and elk must either be submitted online or postmarked by July 31 to be valid.