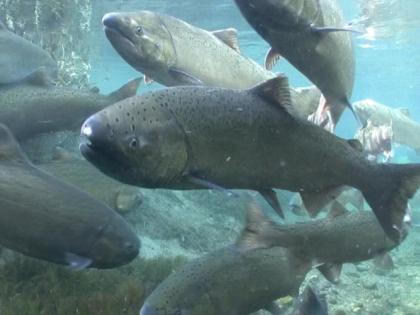 This learning sequence is anchored in the phenomena: Salmon populations in the Pacific Northwest are declining.
Part of the job of Washington Department of Fish and Wildlife (WDFW) is to figure out why salmon populations are declining and create plans for how to help increase fish populations. Throughout this unit, students will engage with the phenomenon of Pacific salmon population decline as they explore salmonid species and discover how WDFW raises healthy fish in hatcheries.  
Students will explore salmonid life cycles and discover patterns among life cycles of plants and animals who interact with salmon. Students will then learn what makes healthy habitats for salmon. They will evaluate solutions to the problems of salmon migration above and below dams and examine salmons' role in a healthy river system. Students will embark on a virtual field trip (in person field trips also available) to a WDFW fish hatchery to learn about current practices in hatchery management and identify ways the hatchery meets the habitat needs of fish. Finally, students will be called to work as an engineering team and help develop a tool to support salmon recovery by working as conservation engineers.  
*Lesson plans include student sheets and interactive links
This work is developed for licensed under a Creative Commons Attribution License. All logos and trademarks are the property of their respective owners. Sections used under fair use doctrine (17 U.S.C. § 107) are marked.